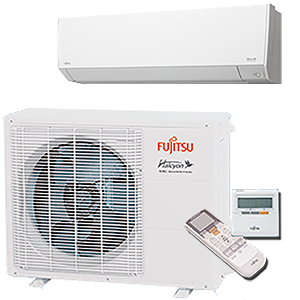 For over 35 years, Fujitsu has been working hard to make the world a more comfortable place. They have produced and shipped millions of air conditioning systems throughout the world to make the hottest places cool and the coolest places comfortable.
Halcyon products have been designed to provide zoned comfort for residential and commercial applications. Engineered to install quickly and easily without ductwork, Halcyon systems provide cooling and heating solutions where others cannot.
Duct free heating and cooling systems make your home's individual rooms or other small spaces more comfortable. Remember, just like whole-home systems, the higher the SEER and HSPF ratings, the more efficient they will be.
We offer a variety of duct free heating and cooling systems to meet any individual room's needs.
Ductless High Wall Indoor Heat Pumps
Fujitsu Alternate Indoor Ductless Units